Our solutions and services are aimed at meeting the needs of our clients on issues concerning reliability and maintenance. We focus and are experts in better maintenance effectiveness through the proper structuring and management of information in order to build optimal decision models that support the day-to-day management of maintenance. Our commitment is to work hand in hand with our client in order to achieve the best results. Our services are: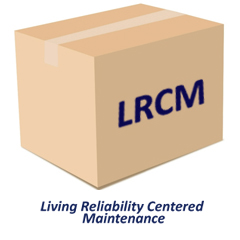 "Living Reliability Centered Maintenance" (LRCM) is a new strategy for effective management of maintenance information and knowledge that achieves physical asset reliability from the analysis of data. The objectives are:
♦   Continuous improvement of maintenance effectiveness by building and deploying optimized decision models.
♦   Dynamic update of the maintenance knowledge base (RCM, FMEA, etc.) for Reliability Analysis needed to optimize maintenance plans.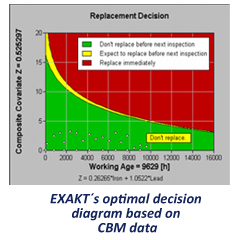 EXAKT is a multidimensional analysis and modeling tool that enables the making of optimized maintenance decisions. Its main objective is to predict equipment failures through condition
The deployed models estimate the remaining useful life (RUL) of equipment as well as combining business factors leading to an optimized balance of preventive and corrective maintenance:
♦   Lower costs
♦   Higher Reliability
♦   Achieving the optimal of risk – cost – reliability balance